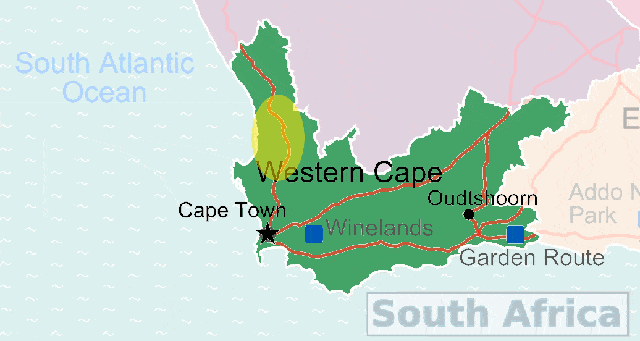 Rooibos Tea also known as Red Bush Tea is an infused tisane and one that is growing in popularity due to its caffeine free nature and mix of anti-oxidants including aspalathin which is only found in rooibos.
Rooibos Tea Production
Production of rooibos comes from both the needle shaped leaves and bits of small stem from the plant. The leaves of the plant and small stems are harvested during the South African Summer to Fall season. After harvesting they are cut into small pieces and bruised, similar to the bruising of tea leaves to bring out flavor and encourage oxidation. After bruising, the leaves are traditionally moistened and allowed to oxidize in piles before drying in thin layers in the sun. This oxidation process is what produces the deep red-brown color and its sweet, woody taste and aroma. In much the same way that green tea is produced by preventing the fermentation process, green rooibos is also produced by skipping the fermentation stage and moving straight from cutting to drying in the sun.
Rooibos has been consumed by local Khoisan inhabitants for more than 300 years but it was the Dutch who first commercialized it as an alternative to costly imported black tea.
Explore Rooibos 'Red Bush' Tea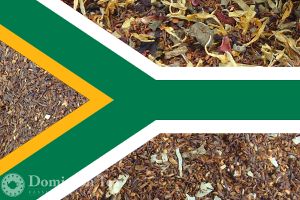 Dominion Tea carries a variety of naturally caffeine free tisanes with a rooibos base. Don't know that you will like rooibos tisanes or want to explore a few? Try our South African Rooibos Sampler Pack to try a small quantity of Rooibos and two tisane blends from it, each with enough rooibos or rooibos blend for four 8 oz cups of these tisane infusions.
If you are a fan of Indian Chai teas but want to skip the caffeine then our South African Chai will be perfect for you. It brings together cinnamon, ginger, cardamom, black pepper and many other traditional ingredients in chai teas but uses rooibos instead of black tea as a base.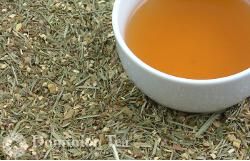 For those of you who love Chocolate Mint, try our rooibos based Chocolate Mint, featuring peppermint and cacao beans, for an after dinner treat that won't keep you up at night.
If you have yet to try a green, non-fermented, rooibos blend then experience our Tropical Escape which brings to mind a beach vacation surrounded by palm trees.
Looking for something else? Have a look at all of our tisanes including those with rooibos and honeybush.